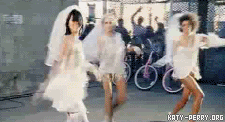 Katy Perry and Russell Brand are engaged, his rep confirmed to People on Wednesday
The couple's romance began heating up in September at the MTV Video Music Awards, where the comedian served as host and the singer performed.
According to an initial report on UsMagazine.com on Tuesday, the pair got engaged five days ago, while on vacation in Jaipur, India. A source told the site that the trip to India "was his Christmas gift. She told him how much she loved Indian culture while they were eating curry in England, so he surprised her." The source noted that Perry has "never connected with anybody like this," adding that Brand "is super into her. She says he makes her laugh like nobody else in the world."
Last week, while in India, Perry posted a photo of her and Brand at the Taj Mahal on Twitter and wrote, "He built this for me. Early Wednesday," she tweeted, "So when do I start walking the streets naked singing that Alanis song?" a reference to the Alanis Morrisette song "Thank U" about the singer's time spent in India.
News of their engagement first began circulating last week after a source told Splash News that Brand was on the hunt for an engagement ring. "Russell is searching for a jewelry designer to make up a ring in time for New Year after the pair discussed what they wanted to have," a source said. "Russell also has the approval of Katy's parents and everyone in the pair's close circle knows about the engagement."
While the world was still wondering if the two had actually gotten engaged, Britain's The Sun reported that Brand had texted those closest to him saying, "It's true. Much love." A source added that Brand said, "Katy's managed to tame me. This is it — I'm completely in love."
Reps for Brand and Perry hadn't responded to MTV News' request for comment at press time.